One of the most common thing happens in our daily life is being frustrated. We get frustrated at any time, at anywhere, even sometime without having any solid reason. Frustration brings anger, jealousy and many more hateful and harmful things into our mind which can ruin our energy to go forward to get success.
At that crucial time, a simple inspiring quote can make a big change in our mind which may be failed by getting one million dollar as gift. If you are thinking one million dollar will be enough to boost your energy, I'll still disagree with you. Without any inspirational speech going through your mind, this dollar will count as some pieces of paper, nothing else.
At the end, all I want to say that, if you are being failed to help someone through money or any other things because of your disability, then try these beautiful motivational quotes which may be enough to help your friend at his or her critical time. Supporting him/her is the most important thing right now.
Speak when you are angry and you will make the best speech you will ever regret.

Ambrose Bierce
If you are money, then, when you die, you will be spent.

Rich Cohen
You can only be young once. But you can always be immature.

Dave Barry
I have great faith in fools – self-confidence my friends will call it.

Edgar Allan Poe
Get your facts first, and then you can distort them as much as you please.

Mark Twain
The only thing you can get in a hurry is trouble.


Navjot Singh Sidhu
Show me a man with a tattoo and I'll show you a man with an interesting past.

Jack London
It's not bragging if you can back it up.

Muhammad Ali
Sometimes when things are falling apart they may actually be falling into place.

Unknown
It's not the size of the dog in the fight, it's the size of the fight in the dog.

Mark Twain
The wisest men follow their own direction.

Euripides
Better to have, and not need, than to need, and not have.

Franz Kafkaa
We are all in the gutter, but some of us are looking at the stars.

Oscar Wilde
One of the first signs of the beginning of understanding is the wish to die.

Franz Kafka
From a certain point onward there is no longer any turning back. That is the point that must be reached.

Franz Kafka
We shall not cease from exploration. And the end of all our exploring will be to arrive where we started and know the place for the first time.

T.S. Eliot
What we call the beginning is often the end. And to make an end is to make a beginning. The end is where we start from.

T.S. Eliot
Unless you believe, you will not understand.

Augustine of Hippo
You will always find an answer in the sound of water.

Zhuangzi
You attract what you are, not what you want.

Unknown
Anything I come across that feels impossible, I probably need to take a second look.

Joe Gebbia (Co-founder AirBnb)
The two most important days in your life are the day you are born and the day you find out why.

Mark Twain
Too much sanity may be madness and the maddest of all, to see life as it is and not as it should be.

Miguel de Cervantes
Every word is like an unnecessary stain on silence and nothingness.

Samuel Beckett
The less effort, the faster and more powerful you will be.

Bruce Lee
Some day you will be old enough to start reading fairy tales again.

C.S. Lewis
Know how to listen, and you will profit even from those who talk badly.

Plutarch
You must realize that one day you will die. Until then you are worthless.

Chuck Palahniuk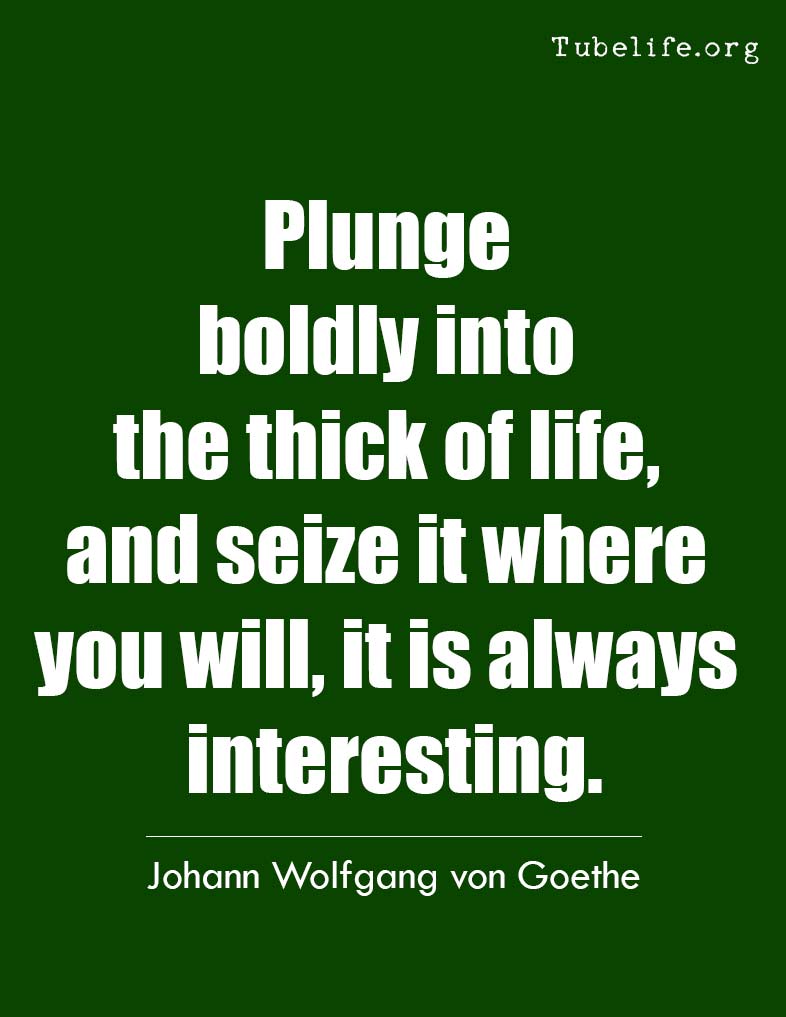 Do not think you will necessarily be aware of your own enlightenment.

Dogen
Do not judge, and you will never be mistaken.

Jean Jacques Rousseau
Do not ask for what you will wish you had not got.

Lucius Annaeus Seneca
If you suddenly stumble upon the right door, you will not be able to recognize that it is right.

Osho
Nothing is so firmly believed as that which we least know.

Michel de Montaigne
You have to die a few times before you can really live.

Charles Bukowski
Live so that you can at least get the benefit of the doubt.

Kin Hubbard
To find yourself, think for yourself.

Socrates
You have to be odd to be number one.

Dr. Seuss
When thinking about life, remember this: no amount of guild can change the past, and no amount of anxiety can change the future.

Unknown
I focused so hard on what I wanted that I lost sight of what I deserved.

Unknown
People cry, not because they're weak. It's because they've been strong for too long.

Johnny Depp
Coming back to where you started is not the same as never leaving.

Terry Pratchett
You are free, and that is why you are lost.

Franz Kafka
Drag your thoughts away from your troubles… by the ears, by the heels, or any other way you can manage it.

Mark Twain
Don't talk unless you can improve the silence.

Jorge Luis Borges
You will not be punished for your anger, you will be punished by your anger.

Buddha
I long to accomplish a great and noble tasks, but it is my chief duty to accomplish humble tasks as though they were great and noble. The world is moved along, not only by the mighty shoves of its heroes, but also by the aggregate of the tiny pushes of each honest worker.

Helen Keller
Wise men talk because they have something to say; fools, because they have to say something.

Plato
Don't look back unless you're planning to go that way.

Unknown
The most important things are the hardest to say, because words diminish them.

Stephen King
Saying nothing sometimes says the most.

Emily Dickinson
To be blind is not miserable; not to be able to bear blindness, that is miserable.

John Milton
Do not speak of your happiness to one less fortunate than yourself.

Plutarch
A man who fears suffering is already suffering from what he fears.

Michel de Montaigne
Think like a wise man but communicate in the language of the people.

W.B. Yeats
If you make friends with yourself you will never be alone.

Maxwell Maltz
We are what we pretend to be, so we must be careful about what we pretend to be.

Kurt Vonnegut
A harmful truth is better than a useful lie.

Thomas Mann
If you tell the truth, you don't have to remember anything.

Mark Twain
Please all, and you will please none.

Aesop
Beware the barrenness of a busy life.

Socrates
Life is the sum of all your choices.

Albert Camus
Life can only be understood backwards; but it must be lived forwards.

Søren Kierkegaard
The most wasted of all days is one without laughter.

Nicolas Chamfort
The proper function of man is to live, not to exist. I shall not waste my days in trying to prolong them. I shall use my time.

Jack London
My mission: to be so busy loving my life that I have no time for hate, regret, worry, fret, or fear.

Unknown
Life is all about balance. You don't always need to be getting stuff done. Sometimes it's perfectly okay, and absolutely necessary, to shut down, kick back, and do nothing.

Lori Deschene
Listen to the new, go with the new. I know you are afraid. In spite of the fear, go with the new, and your life will become richer and richer and you will be able one day to release your imprisoned splendor.

Osho
You will never be happy if you continue to search for what happiness consists of. You will never live if you are looking for the meaning of life.

Albert Camus
Do not take life too seriously. You will never get out of it alive.

Elbert Hubbard
If you're afraid to die, you will not be able to live.

James A. Baldwin
That it will never come again is what makes life so sweet.

Emily Dickinson
An unexamined life is not worth living.

Socrates
What we achieve inwardly will change outer reality.

Plutarch
Take rest; a field that has rested gives a bountiful crop.

Ovid
I can never read all the books I want; I can never be all the people I want and live all the lives I want. I can never train myself in all the skills I want. And why do I want? I want to live and feel all the shades, tones and variations of mental and physical experience possible in my life. And I am horribly limited.

Sylvia Plath
Better pass boldly into that other world, in the full glory of some passion, than fade and wither dismally with age.

James Joyce
It is necessary to have wished for death in order to know how good it is to live.

A
Just trust yourself, then you will know how to live.

Johann Wolfgang von Goethe
Plunge boldly into the thick of life, and seize it where you will, it is always interesting.

Johann Wolfgang von Goethe
The more you lose yourself in something bigger than yourself, the more energy you will have.

Norman Vincent Peale
Listening to your own heart, you will start moving in the right direction, without ever thinking of what is right and what is wrong.

O